Why Should I Consider A Manufactured Home?
Manufactured homes give you the best value for your money. Construction costs per square foot for a new manufactured home average anywhere from 10 to 35 percent less than a comparable site-built home, excluding the cost of land. Today's manufactured homes offer the quality construction, modern amenities and livability you are seeking…at a price that fits your lifestyle and your budget!
What is the difference between a "manufactured home" and a "modular home"?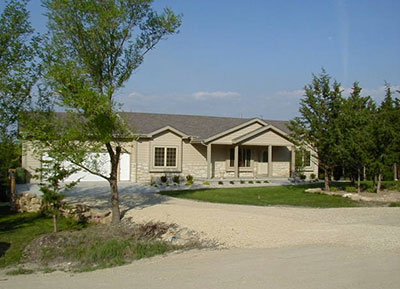 A manufactured home is a home, which is subject to the federal Manufactured Home Construction and Safety Standards Act. This Act set forth a federal preemptive national building code that all manufactured homes are built to. The federal preemptive language means that no State or local government may require, establish or enforce a standard that is not identical to the Federal standards. The Act is enforced and administered by the U.S. Department of Housing and Urban Development (HUD). This building code is commonly referred to as the HUD Code.
A modular home is a home, which is certified by its manufacturer as being constructed in accordance with a nationally recognized building code. There are several nationally recognized building codes available for cities and counties to adopt; for example the Uniform Building Code (UBC) or the International Residential Code (IRC). Cities and counties periodically review their building code and make changes to them. Your modular home must be built to the code adopted by the city or county where it will be sited. Please contact your retail center for building code information.
How Can I Be Sure That A Manufactured Home Is Quality-Built? Do Manufactured Homes Use The Same Building Materials and Processes?
Today's manufactured homes are built with the same materials as site-built homes, but in a controlled factory environment where quality of construction is invariably superior to what can be done outdoors.
The HUD Code, the only national building code, regulates and monitors the manufactured home's design and construction, strength and durability, transportability, fire resistance, energy efficiency and overall quality. It also sets standards for the heating, plumbing, air-conditioning, thermal and electrical systems. The HUD Code ensures compliance with these standards with a thorough inspection system that takes place at each step as the home is being constructed in the factory.
There are major benefits to having your home built in a factory:
All phases of the construction process are quality controlled.
The weather doesn't interfere with construction, cause costly delays and warp or damage building materials.
All technicians, craftsmen and assemblers are on the same team and professionally supervised.
Inventory is better controlled and materials are better protected from theft and weather-related damage.
Construction materials, as well as interior features and appliances, are purchased in volume for additional savings.
All aspects of construction are continually monitored by 3rd party inspectors.
Can I Customize A Manufactured Home To Meet My Particular Needs/Wants?
Today's manufactured homes include many of the "standard" features that are found in a site-built home. Many floor plans are available that range from basic models to more elaborate designs that feature vaulted or even cathedral ceilings, drywall, fully equipped gourmet kitchens, comfortable bedrooms with spacious walk-in closets, and bathrooms with garden tubs and whirlpools. Selections also include a variety of exterior designs and siding materials, including wood, hardboard, or vinyl siding.
With the vast majority of manufacturers now using the latest in computer-assisted design, you have the flexibility of customizing your home's floor plans, interior finishes, and exterior designs. Lifestyle and budget are the only considerations to the options available to you.
Many manufacturers also provide homes with "accessibility options" for those with special needs. If you are interested in such a home, work with your retailer to order a home with accessible features, such as extra-wide halls and doorways, accessible counters and appliances, and specially equipped bathrooms.
Are There Limits On Where I Can Locate or Place A Manufactured Home?
Since 1992, Kansas's law has prohibited cities and counties from excluding a "residential design manufactured home from a residential district" (K.S.A. 12-763). A residential design manufactured home means:
A manufactured home on permanent foundation which has minimum dimension of 22 body feet in width, a pitched roof and siding and roofing materials which are customarily used on site-built houses.
Be informed; call your city or county planning department to find out the requirements for the home you will be purchasing.
Help is available if you have questions; call Kansas Manufactured Housing Association at 785-357-5256.
Who Installs A Manufactured Home? Can I Do It Myself?
Most states have laws that govern the installation of a new manufactured home. Your retailer or the subcontractor installing the home is responsible for ensuring that the home is installed in accordance with state regulations and the manufacturer's installation instructions or with an installation designed and approved by a licensed, registered engineer. The proper method of installing the home will depend on the design of the home and the conditions of the location, such as climate and soil type. Depending on the type of loan used to finance the home, the lender may have some specific requirements for the foundation and installation of the home as well. 
Are Manufactured Homes Covered By A Warranty? Who Do I Contact To Service Problems Covered By A Warranty?
Most manufacturers offer warranties to guarantee the quality, workmanship, and major heating and cooling systems of the home for a specified time, usually ranging from one to five years. This warranty also tells the homebuyer what to do if a problem arises. Manufacturers of the appliances provided in the homes also provide either "full" or "limited" warranties. There are major differences among warranties and these warranties should be provided to you in writing.
Retailers also have distinct responsibilities in the installation and servicing of the home. Be sure to have the retailer clearly state in writing its responsibilities and warranty coverage for transportation and installation.
Even if your home and some of its appliances do not have a written warranty, the buyer does have implied warranties under state laws which require a new home and new appliances to work normally and perform properly.
Will A Manufactured Home Appreciate In Value?
Generally, a home is a great investment. Appreciation on any home - either site-built or manufactured - is affected by the same factors: the desirability and stability of the community, supply and demand for homes in the local market, and maintenance and upkeep of the home. When properly installed and maintained, today's manufactured homes will appreciate the same as surrounding site-built homes.
How Do I Finance A Manufactured Home?
There are a variety of financing options when you buy a manufactured home. View our financind page for details.
Can I Make Repairs And Renovations On A Manufactured Home The Same Way As With A Site-Built Home?
While you should perform minor repairs and upkeep on the home, just as with any home, it is advisable to hire a professional for more extensive repairs and renovations. Your homeowner's manual outlines maintenance requirements.
Once your home has left the factory, the HUD Code does not include provisions for additions and alterations. Such modifications may jeopardize your home warranty. They may also create malfunctions or an unsafe home.
An approved addition should be a free-standing structure that meets local building codes, and you may need a construction permit from local authorities.
Failure to follow the manufacturer's instructions on maintenance and renovations can void the manufacturer's warranty, as well as lessen the value and life of your home.
Where Can I Find More Information On Manufactured Housing?
Check out the rest of this website, which includes valuable links to information and industry-related services. Manufacturers, retailers, installers, lenders, and a wealth of additional service providers can all be found with just one click in our searchable directory.