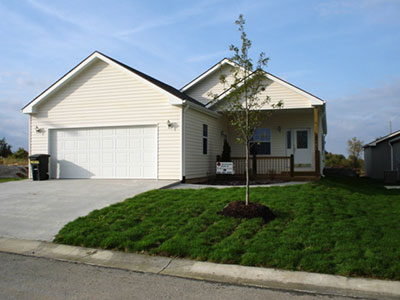 You may be surprised at the variety of financing options available for manufactured homes. The most popular option is financing through the retailer. Retailers traditionally work closely with financial companies specializing in manufactured housing. These financial firms are often times arms of the nation's largest banking institutions and are able to offer very favorable financing.
Typically, this financing features as little as 5% down payments and up to 25-year mortgages. Government-backed financing is available under the Federal Housing Authority (FHA) Title 1 Manufactured Home Loan Program and the Title II FHA Combination Manufactured Home and Homesite Loan Program.
A growing trend is to finance the home and land together as real property using conventional mortgage financing from a traditional mortgage lender. Fannie Mae and Freddie Mac, the primary secondary market sources for mortgage loans in the U.S., encourage this trend through their guidelines for accepting real estate mortgage loans for 20-and 30-year terms secured by manufactured homes.
View a list of our members who provide financing options in our member directory.  Search the finance category to find someone who can help you.