Tips on Placing a Manufactured Home on Land You Own...
Placing your manufactured home on land you own (or intend to buy) allows you a certain amount of freedom, in the location of the land itself and in the location of your home on the land. However, if you plan to place a manufactured home on private property, there are several things you need to know and consider before you can site your home.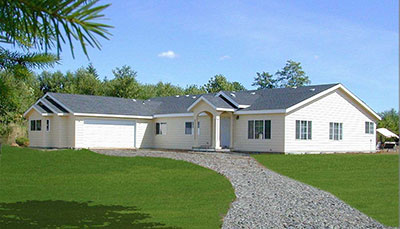 The following information is intended to familiarize you with the issues, regulations and building codes that control private property placement of manufactured housing.
Manufactured Housing and Kansas Regulations
In 1992, a state law went into effect that makes it illegal for any city or county to exclude a residential-design manufactured home from a residential district in Kansas (K.S.A. 12-763). A residential-design manufactured home means "a manufactured home on permanent foundation which has minimum dimensions of 22 body feet in width, a pitched roof, and siding and roofing materials which are customarily used on site-built homes" (K.S.A. 12-742).
State Law Treats Residential-Designed Manufactured Housing the Same As Site-Built Homes
Manufactured housing is required by federal law to be built to the National Manufactured Housing Construction and Safety Standards. Both state and federal law prohibits any local government from requiring any other construction standard for manufactured housing. However, local governments can (and often do) regulate the installation of manufactured housing. Check with your city or county code enforcement office on installation standards. In most cities and counties, a building permit is required to place a home, and a fee is charged for the permit. Also, licensed craftsmen may be required at an additional expense.
Check Your Local Zoning Regulations
Before you site a manufactured home on private property, make sure you understand the local zoning requirements of your city and county. Zoning information is available through a city and/or county land use and planning office. It's best to call and make an appointment with the zoning administrator to discuss your plans, and get copies of ordinances and regulations that affect single family housing placement. Typically, zoning regulations deal with the use, location (including flood plain), size, shape, height and set-backs required of a structure. Sometimes zoning regulations address the architectural features of a structure.
Restrictive Covenants
Private restrictive covenants are limitations in property deeds that control how you can use the land. Many residential subdivisions (and some rural properties) have private restrictive covenants that go beyond public zoning regulations. Therefore, you should always check to see if the land you are interested in has covenants before you purchase a lot. Covenants may be available from the current property owners, the subdivision homeowners' association (if one exists), and they are recorded at the Register of Deeds office and are available to look at if you have a legal description of the property. Always check to make sure you have the most current copy of the covenants.
Manufactured housing comes complete with plumbing, electrical and heating systems that must be connected to 
electrical, water and sewer facilities. To find out what utilities are available to a property, how much it will cost to run services to your home, and what connection fees are, contact your local public utilities division for information. In some areas, water and sewer services may not be available, requiring a well and septic system. Contact the local health department for information and permits.
Choosing Your Neighborhood
Today's manufactured home delivers all the amenities and comforts found in site-built housing, but at 20 to 35% less per square foot, depending on the region of the country. Built in a controlled factory environment where construction quality is painstakingly maintained, today's manufactured homes are constructed with materials virtually identical to those used in traditional site-built homes. Economies of scale and the efficiency of factory production produce savings that are passed on directly to the homebuyer. Manufactured homes range in size from 1,000 to 3,000+ sq. ft. and come with a long list of standard features, such as modern kitchen appliances, and custom options such as wood-burning fireplaces, whirlpool baths and cathedral ceilings.