Where to Buy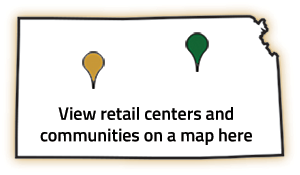 When you are looking to buy a manufactured home, several options are available to you.
Below is a list of only our members that have retail centers or communities where you can buy a manufactured home.
You can use the search boxes to search by company, city or category. You can also sort the list by clicking on the column headings.
Our interactive map at the right is another easy way to find retail centers or communities near you.
If you are looking for a complete list of our members or other services related to manufactured housing, view our complete membership directory here.

Company
Category
Address
Phone Number
Website
A & W Investments
Community
(208) 569-7047
A&N Property Management, LLC
Community
(612) 226-8682
Ace 4 Homes
(580) 338-8553
Acres Estates MHC, LLC
Community
(785) 241-5575
Adam Heights Manufactured Home Park, LLC
Community
(832) 285-2056
Anderson Mobile Home Park
Community
(785) 484-3487
Andover Estates MHP, LLC
Community
(316) 272-7802
Blue Valley MHC, LLC
Community
(785) 539-5841
www.rhp-properties.com
Bonner Springs Estates MHC
Community
(913) 441-3434
Brittany Place, LLC
Community
(785) 234-4333
www.rhp-properties.com
Broadview Estates At Maize, LLC
Community
(316) 202-2309
www.broadviewcommunities.com
Broadview Estates Goddard
Community
(316) 202-2309
www.broadviewcommunities.com
Broadview Estates Winfield
Community
(316) 202-2309
www.broadviewcommunities.com
Brookwood Mobile Home Community
Community
(785) 843-3600
www.yescommunities.com
Busker LTD
Community
(620) 624-6071
www.westerncommunity.net
Carey Investment Inc.
Retail Center
(785) 862-1426
www.modernhomesales.net
Champion Retail Housing
Retail Center
(620) 307-2008
factoryhomes.com
Cherrywoods MHP, LLC
Community
(785) 418-1262
Chisholm Creek, LLC
Community

501 East 63rd Street North

(316) 744-3703
www.rhp-properties.com
Clayton Homes of Wichita #1013
Retail Center
(316) 425-7940 x10#
www.4aclaytonhome.com
Clear Sky Capital
Community
(541) 639-5575
www.clearskycap.com
Colonial Gardens, LLC
Community
(785) 539-5841
www.rhp-properties.com
Conestoga
Community
(913) 755-9464 ext.2211
Cottonwood Grove Mobile Home Community
Community

4444 S. West St., Suite 93

(316) 529-4444
Countryside of Hays, Inc.
Retail Center
(785) 625-6539
www.countrysidehays.com
Creekside Estates MHC
Community
(913) 287-7611
www.treasureparkcreeksidemhc.com
Creekside Village, LLC
Community
(620) 662-1416
D & H Homes
Retail Center
(620) 275-1067
www.dandhhomes.com
Dubrow Management Corporation
Community
(973) 624-9130
East Garden Village
Community
(620) 275-4722
East Side Factory Built Homes, LLC
(316) 688-5101
www.eastsidehomeswichita.net
Easy Living MHC, LLC
Community
(785) 749-2200
www.rhp-properties.com
Edwardsville (KS) MHC, LLC
Community
(913) 441-4400
El Caudillo, LLC
Community
(316) 522-5045
www.rhp-prpoerties.com
Emporia Estates, LLC
Community
(859) 230-2185
Family 1st Living
Community
(316) 775-1080
www.family1stliving.com
Family 1st Living
Community
(316) 775-1080
www.family1stliving.com
Family 1st Living
Community
(316) 775-1080
www.family1stliving.com
Family 1st Living Wichita 2nd Addition
Community
(316) 775-1080
www.family1stliving.com
G.E.I., LLC
Community
(580) 338-2001
Glen Acres, LLC
Community

500 East 50th Street South #32

(316) 522-5045
www.rhp-properties.com
Golden Rule Practices, LLC
Community
(785) 236-8677
Great Bend Estates MHP, LLC
Community
(620) 292-1560
Green Courte Partners
Community

303 W. Madison St., Ste. 1500

(630) 750-5051
www.greencourtepartners.com
Happy Trails LLC
Community

2945 E. Trail

P.O. Box 759

(620) 339-4677
Harper Woods, LLC
Community
(785) 331-2468
www.rhp-properties.com
Haven Mobile Home Court, LLC
Community
(620) 474-0365
Homepath Communities
Community

25422 Trabuco Rd., #105-417

(949) 254-2724
www.homepci.com
Honorary
(520) 742-7355
www.notjustanotherbox.com
Honorary
(316) 835-2696
Honorary
(785) 478-9391
Honorary
Horizon Land Management LLC
Community
(913) 336-0745
www.horizonlandmgmt.com
Horizon Land Management LLC
Community
(620) 240-9821
www.horizonlandmgmt.com
Impact Communities
Community
(785) 347-7555
Jim's Mobile Home Service
(816) 453-8035
Lakeview Community
Community
(316) 522-5141
www.lakeviewcommunity.com
Lakeview MHP, LLC
Community
(724) 252-7872
www.karuparartners.com
Lecompton MHP Lindale, LLC
Community
(785) 887-6584
Lifestyle Mobile Home Park, Inc.
Community
(316) 683-5061
Little Apple Quality Homes, LLC
Retail Center
(785) 539-7600
www.littleapplequalityhomes.com
LMP Wolf Creek Homes TRS, LLC
Retail Center
(816) 994-6607
www.thehomesatwolfcreek.com
Maplewind Park, LLC
Community

606 S. Park St., P.O. Box 555

(785) 537-8118
Meadowlark MHP
Community
(785) 762-4736
Meadowood MHC, LLC
Community
(785) 234-4333
www.rhp-properties.com
Midwest Homes
Retail Center
(785) 232-2225
www.MidwestHomesInc.net
Mobile Manor Estates
Community
(316) 524-4171
Modern House and Home
Retail Center
(620) 231-8900
www.modernhouseandhome.com
Montara Village, LLC
Community
(785) 862-1030
www.rhp-properties.com
Mustang Community
Community
(620) 241-0237
www.mustangcommunities.com
NAI Martens
Community
(316) 263-6997
MHCListings.com
Navajo Lake Estates, LLC
Community

501 East 63rd Street North

(316) 744-3703
www.rhp-properties.com
New Castle Homes
Retail Center
(816) 884-3550
www.nch.net
Paola MHP 1, LLC
Community
(913) 294-4345
Park Avenue Estates, LLC
Community
(316) 554-1946
www.rhp-properties.com
Park Smart,LLC
(919) 291-4375
Park Village Community, LLC
Community
(316) 686-1121
Pine Hills, LLC
Community
(785) 749-2200
www.rhp-properties.com
Prospect Properties, LLC
Community
(913) 717-5608
www.prospectpropertiesllc.com
Quivira Hills Estates MHC, LLC
Community
(913) 375-1537
www.quivirahillsmhc.com
Red River PM
Community
(816) 868-5451
Redbud Estates
Community

2500 Farm Bureau Rd. #1000

(785) 539-5791
www.mshapriorealestae.com
Ridgeview Development Co.
Retail Center
(913) 441-0194
Ridgewood Estates, LLC
Community
(785) 267-1633
www.rhp-properties.com
River Oak Mobile Home Park, LLC
Community

2320 E. MacArthur, Office

(316) 524-4811
River Oaks, LLC
Community
(913) 299-1324
www.rhp-properties.com
River View Estates
Community
(913) 299-0354
www.riverviewestatesmh.com
Riverchase, LLC
Community
(785) 539-5841
www.rhp-properties.com
Riverside MHC, LLC
Community
(785) 331-2468
www.rhp-properties.com
Russell Family Real Estate, LLC
Community
(913) 682-3103
www.russellfamilyre.com
Santa Barbara Estates
Community
(913) 782-3100
www.yescommunities.com
Saratoga MHP Fund 1, LLC
Community
(931) 801-4110
www.saratogagroup.com
Saratoga MHP Fund 1, LLC
Community
(931) 801-4110
www.saratogagroup.com
Scottish Square
Community
(785) 238-6622
Shawnee Hills MHP LLC
Community
(516) 445-2947
www.shawneehillsmhp.com
Sherwood Acres, LLC
Community

1928 East 47th Street South

(316) 522-6300
www.rhp-properties.com
Shocker Homes, LLC
Retail Center
(316) 733-9550
www.shockerhomes.net
South Village MHC, LLC
Community

4637 SE South Village Pkwy

(785) 862-2131
Southside Homes, Inc.
Retail Center
(316) 522-7100
www.southsidehomecenter.com
Stonegate Estates
Community
(316) 529-2578
www.peakmhc.com
Success Management
Community
(405) 476-5200
The Towneship at Clifton, LLC
Community
(316) 684-1171
www.rhp-properties.com
The Woodlands MHC, LLC
Community
(316) 522-6454
Thomas Estates, LLC
Community
(913) 400-2044
thomasestates.net
Topeka Timbers LLC
Community
(402) 782-1727
Town & Country Mobile Home Rentals & Sales
Community
(620) 342-7205
Twin Oaks MHC, LLC
Community
(316) 524-7961
www.rhp-properties.com
Vineyards Management Group
Community
(316) 775-1080
Vineyards Management Group
Community
Vineyards Management Group
Community
(785) 823-5770
Vineyards Management Group
Community
(785) 823-5770
Vineyards Management Group
Community
(785) 823-5770
Vineyards Management Group
Community
(785) 628-1480
Vineyards Management Group
Community
(785) 628-1480
Vineyards Management Group
Community
(785) 628-1480
Vineyards Management Group
Community
(785) 408-1498
vineyardsmg.com
Vineyards Management Group
Community

1010 Reservation Rd. # A13

(785) 628-1480
Vineyards Management Group
Community
(785) 233-1568
Vineyards Management Group
Community
(316) 943-4401
Welcome Home Community
Community
(316) 524-3400
www.welcomehomecommunity.com
West Hill MHC
Community
(620) 342-8577
Western Community Park, LLC
Community
(303) 795-5200
Whitewater Estates, LLC
Community
(316) 202-9432
www.whitewaterestates.com
Wooten Inc.
Retail Center
(620) 231-8900
www.modernhomecenter.net